Debbie Adams was a well known face in the UK AOR scene. If she wasn't watching live rock in an atmospheric venue, she would be programming a rock radio station to share her passion or organising a huge event to raise funds for Kidney charities.
In September 2018 Debbie lost her long battle with health issues. In memory of her, a special rock night took place in September 2019 to help raise funds for two charities that were close to her heart. Due to popular dmand, KR Rocks returns now that te entertainment sector is starting to remerge from lockdown.
So on November 6th 2021, we are going to remember Debbie all over again, and support her Kidney Research and Kidney Patient charities that she spent so much time supporting.
We are holding a night of music and memories. Musicians from across the country will be gathering to pay tribute ad entertain with all proceeds going to the charity.
Back by popular demand the night starts with an acoustic set from Matthew Fearon before we rock the night away with Steal the City, Baranovich, Chaos Bleak, Viral Strain and The Trollbangers. And we have a special debut performance from J.A.M. formed during lockdown and made up of a number of Debbie's closest friends.
And we are pleased to be able to bring this fantastic night to the heart of Southport thanks to The Ship and Anchor in Cable Street.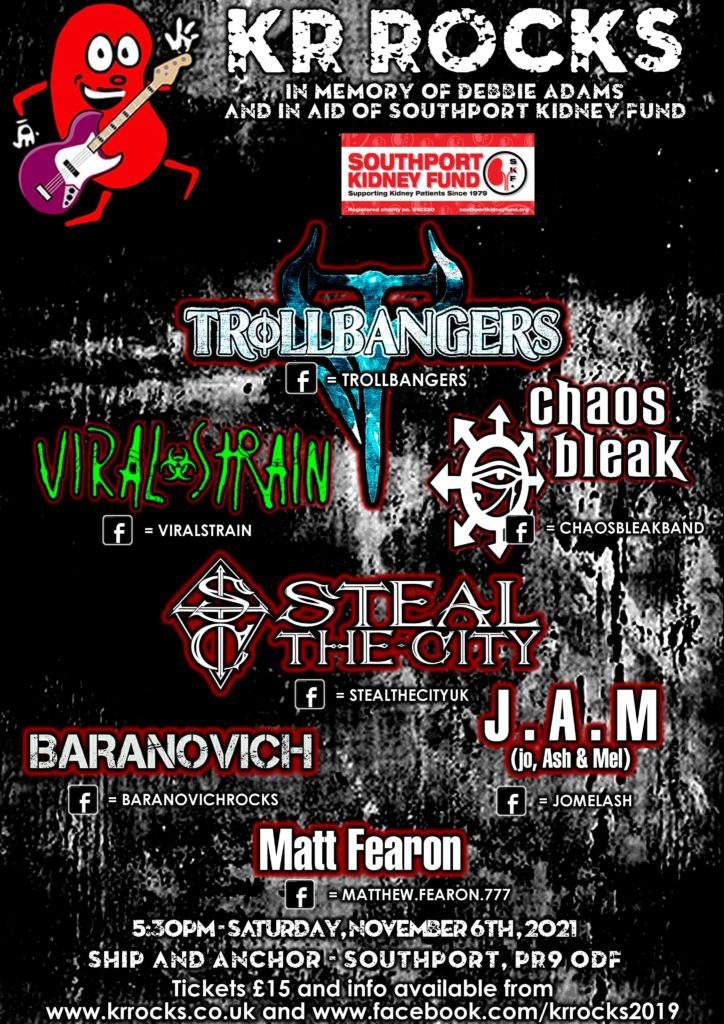 Tickets are available now on our partner site. You can find more details on the GET TICKETS page.